On July 4th 2007, I found something that caught my eye. A classified ad for a little girl Pomeranian that was described as "teddy bear like". See, my husband had been wanting a little girl Pom so bad... We'd looked at lots of ads, but no picture captured his heart, or mine. I remembered him saying "I want one that looks like a teddy bear!".

So I quickly emailed and asked if the little Pom was still available and if we could see some pictures. When I opened the next email, this is what I saw...



We were caught. Hook, line and sinker!! After a bit more emailing, it was decided that we would drive down the next day to see her in person. We both promised that if she wasn't "the one" we'd wait until we found our perfect match, even though it'd be a 2 hour drive to see her. (yeah right... like we'd be able to leave without her!)

After driving out to the middle of no where, I swear I've never seen a highway that small before... We finally met the owner and he presented me with this little angel! She promptly snuggled up to my chest and gave me a quick kiss on the chin. I was sold. And lemme tell you... If you think I was sold - Ryan was sold even harder!




On the car ride home we discussed names. We wanted something girly, something cute and unique. The chosen name was Twiggy, after the gorgeous mod model herself! Our little Twiggy quickly decided she was a Daddy's girl and whimpered like crazy when Ryan left the car to gas.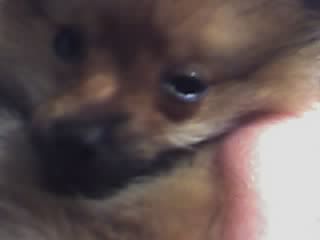 Once getting home Twiggy quickly settled into our lives and our hearts. I can't even imagine life without her now!



I have to many great memories of this little Angel.